CARACAS, Venezuela — Former lightweight champion Edwin Valero was detained Sunday on suspicion of killing his wife, the gravest in a string of problems that have threatened to derail his career.
Venezuelan Federal Police Chief Wilmer Flores said Valero was arrested after police found the body of his 20-year-old wife in a hotel in Valencia. Valero left the hotel room around dawn on Sunday and allegedly told security that he had killed Jennifer Viera, Flores said.
[+] Enlarge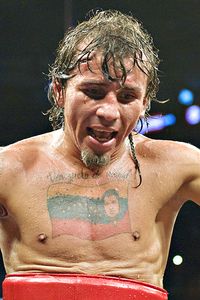 Omar Torres/Getty ImagesPolice said Edwin Valero left a hotel room Sunday morning and told hotel security that he had killed his wife.
Flores told state television that police found three stab wounds on Viera's body. He said Valero was transferred to a local police precinct, "where we are headed to take samples needed for the investigation of the case" and to question the boxer.
Valero's lawyer, Milda Mora, did not immediately return telephone calls seeking comment.
His promoter, Top Rank, had just learned about the incident Sunday and said Valero was not scheduled to fight any time soon. He had been having difficulty obtaining a visa to fight in the United States, basically ruling him out of the most lucrative opportunities.
"He is not scheduled for Top Rank in any fight," spokesman Lee Samuels said. "He couldn't come to the U.S. He did fight in Mexico his last fight."
The 28-year-old former WBA super featherweight and WBC lightweight champion, whose all-action style made him a crowd favorite, has been in trouble with the law before.
Last month, Valero was charged with harassing his wife and threatening medical personnel who treated her at a hospital in the western city of Merida. Police arrested Valero following an argument with a doctor and nurse at the hospital, where his wife was being treated for a series of injuries, including a punctured lung and broken ribs.
read more