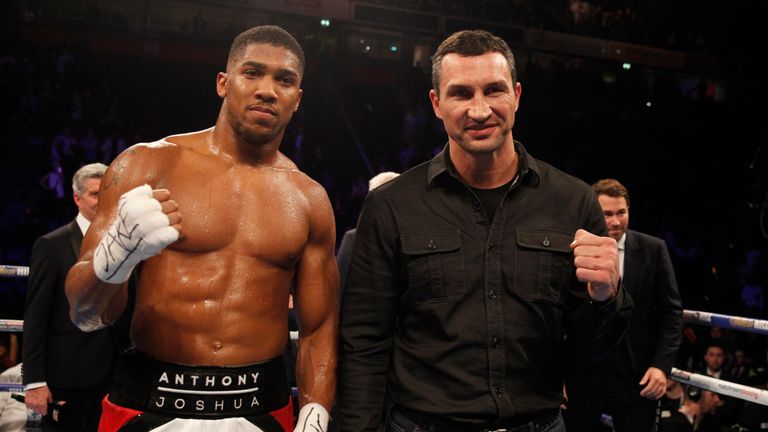 IBF heavyweight champion Anthony Joshua had no sooner iced hapless challenger Eric Molina in three rounds at the Manchester Arena on Saturday than he was joined in the ring by the man who will be his next challenger. However if fans were expecting WWE histrionics of the caliber of Tyson Fury and Deontay Wilder coming face-to-face in the ring in January, that was never going to happen.
Instead Wladimir Klitschko greeted Joshua as he would a beloved friend, with a hug, a handshake, even a fist-pump. No raised voices, no snarls, no glares, just mutual respect.
Former IBF/WBA/WBA heavyweight king Klitschko had been sitting ringside while Joshua defeated Molina, and as soon as the referee waived the fight off, the Ukrainian knew his proposed megafight with the hottest star in world boxing was on. Once in the ring, after completing his love-in with Joshua, Klitschko made sure that all of the 20,000 in attendance in Manchester were aware of it.
"Want to see a big fight?" shouted Wladimir, somewhat politely. "Want to see a fight where two Olympic champions are involved? Want to see the fight between AJ and WK?"
While this attempt at rabble-rousing would no doubt drive 'em wild in Klitschko's usual German soccer stadium stomping grounds, the Manchester crowd attempted to cheer along with predictable English restraint, but make no mistake, the Joshua-Klitschko bout, which is officially scheduled for April 29 and will take place before 80,000 fans at Wembley Stadium in London will be a blockbuster. Up for grabs will be Joshua's IBF title and the WBA belt recently vacated by Tyson Fury.
Fury famously ended Klitschko's ten-year title reign in November last year, but his much-publicized personal demons have since shredded the Manchester giant's brief title tenure, forcing him to relinquish his belts. We wish Tyson all the very best and hope to see him back in the ring very soon.
By Wednesday, 27-year old Joshua (18-0, 18 KOs) and 40-year old Klitschko (64-4, 54 KOs), were appearing at a hastily arranged press conference at Wembley Stadium with promoter Eddie Hearn doing an excellent job as the master of ceremonies. The protagonists chatted to each other amiably before the presser began, and were the model of decorum throughout, and it's clear that no matter the outcome of April's encounter, their mutual respect and friendship forged years ago when Joshua worked as a Klitschko sparring partner looks set to continue.
Both men are athletic giants, standing around 6'6" and scaling 250 lbs., both pride themselves on being in tremendous condition, both are Olympic super heavyweight gold medallists (Wladimir in 1996, AJ in 2012) and both are charming, intelligent and articulate individuals who prefer to do their fighting in the ring than out. Klitschko, while still in tremendous shape, is clearly in the twilight of his career. Does the old lion still have one great night left in him? Joshua, with a limited amateur background and only 18 pro fights under his belt is clearly still a work in progress. Can the youngster rise to the occasion, like fellow Olympians Ali and Foreman before him? All will be revealed on April 29!